The Mobileye and Rosco partnership.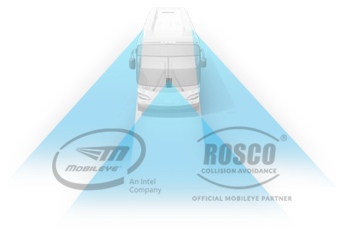 ABOUT MOBILEYE AN INTEL COMPANY
Mobileye, an Intel Company, is a global leader in the development of computer vision and machine learning, data analysis, localization, and mapping technologies for Advanced Driver Assistance Systems and autonomous driving solutions. Its technology is integrated into hundreds of new car models from the world's major automakers including BMW, Ford, General Motors, Honda, Volvo, and more. In fact, over 24 million vehicles worldwide are equipped with Mobileye technology.
Mobileye's Aftermarket Collision Avoidance System is available for existing cars, trucks, buses and RVs, so that the driver of almost any vehicle can reap the benefits of a robust safety system. The System is available with a single, forward-facing camera suitable for most vehicles, or in a multi-camera solution (Shield+™) designed specifically for large commercial vehicles with hazardous blind spots.
ABOUT ROSCO COLLISION AVOIDANCE
Rosco is a leading global manufacturer of automotive vision safety products to the bus and truck marketplace. Founded in New York City in 1907 as a safety product manufacturer for automotive and aeronautical markets, Rosco moved to its current location in Queens, New York in 1974. Rosco products are designed and manufactured in the USA and include mission critical driving safety aides such as interior and exterior mirrors, sun visors, backup and side view cameras, video recording systems, sensor products and collision avoidance systems. Today, Rosco is the largest manufacturer of bus mirrors in North America. Rosco's staff has grown to over 250 employees in facilities totaling 150,000 square feet.Key fleet customers include New York City Transit and Sanitation, the United States Postal Service, UPS, Fed-Ex, National Grid, Con Ed and PSE&G.  Distinguished large bus and truck manufacturers installing Rosco product on new vehicles include New Flyer, Prevost, Nova, Gillig, Navistar / IC Bus, Freightliner/Thomas Bus, and Blue Bird.
Rosco's integration of the Mobileye Shield+ Collision Avoidance System is an example of how the unique safety requirements of bus and truck operations can be addressed with proper application of evolving technology.
OUR MISSION
Rosco is the largest supplier of automotive vision safety products to the bus and truck marketplace. For over a century, Rosco's goals have remained the same: Commitment to producing the highest quality automotive products and providing the superior service customers have grown to expect. Today, while Rosco products are on all school buses manufacture in North America, Rosco supplies mirrors, visors, and digital vision products to nearly every commercial bus, truck, military, and specialty vehicle manufacturer as well.